Our offer
Our online advice service offers information and support to girls and young women as regards the protection against forced marriage.
Within a protected framework (SSL codification) the girls may contact us by e-mail, single chat or group chat. On request, there is the possibility to get personal advice or advice by phone.
Our advice is anonymous, i.e. everything girls write or tell us is treated confidentially. Nobody gets to know that those girls asking us for advice have contacted us. We do not take any decision without the consent of the concerned.
If girls/ young women need concrete assistance in crisis situations, we arrange for a local advice or a protected accommodation on request.
We support girls and young women. Only women work for us. All consultants have lots of professional experience to support girls and young women.
We talk German, Turkish and Kurdish.
Any e-mail is answered within 3 days.
On request, girls/young women may even write e-mails to us in Arab, Albanian and French language. These e-mails are treated in cooperation with an interpreter service (of course in a protected and anonymous way). Such inquiries are answered as quickly as possible which, however, takes some more time.
As regards boys/young men, being threatened by forced marriage, we arrange for suitable counselling institutions.
At schools or other institutions (e.g. migrant organisations) we organise information events for girls about the offer of our online counselling centre. If you are interested, please do not hesitate to contact us.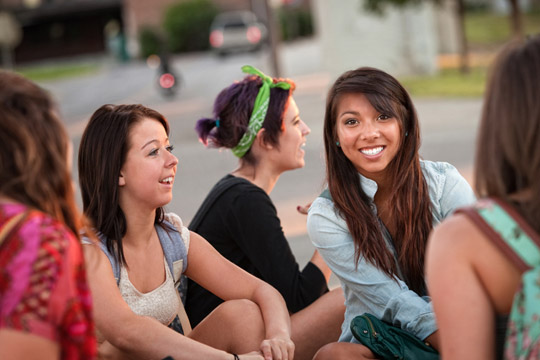 About the supporting organisation: 'Mädchenhaus Bielefeld e.V.' is a charitable association with the aim to increase the living conditions of girls and young women in any areas of life. As an acknowledged supporting organisation, the association develops supporting offers for girls and young women in emergency and crisis situations.
Girls of different social and cultural origin find advice, support, protection and long-term accommodation possibilities in those four departments of Mädchenhaus Bielefeld e.V.: Counselling centre, online advice about the protection against forced marriage, refuge and assisted living (For further information about the association, please see: www.maedchenhaus-bielefeld.de).